Pipe Repair Melbourne
A local and reliable Melbourne plumbing company providing cost effective plumbing repairs for both domestic & commercial customers.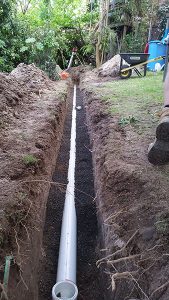 In urban areas, pipes can give you headaches if not drained properly. The clogged pipes will not only result in getting your property flooded, but also become a source of unneeded smell and dirt when mixed with debris and tree roots. As such Fulla Plumbing Services provides a hassle-free pipe repair and replacement service in no time at a reasonable price.
Using our highly pressurized water jet we will clear the pipe of the blockage. We use state of the art technology to assure minimal problems during the course of work by our professional plumbers. During pipe replacement we take great care not to damage other concurrent pipes or services. When possible we refrain from unnecessary digging during reparation to guarantee the most cost effective services. Call us to make the water flow smoothly again in your pipes in no time.
What we
can do for you
Rain Water Tanks
Blocked Drains
Stormwater & Drainage Solutions
Retention Systems
Sewage Pipe Repairs & Replacement
Hot Water Replacement & Repair
Gas Fitting
Sewer Pump Stations
Grease Interceptors
Roof Restoration
Colorbond Roofing
Gutter & Downpipes
Rapid 24 hour Emergency Service
Fantastic service and professionalism shown by Luke at Fulla Plumbing. He was on time and cleaned up after himself and at all times kept me informed of costs. Excellent and would highly recommend.
Really happy with the service I received from Luke. He came out when he said he would and gave me a solution to the problem straight away. I would recommend him to anyone looking for a reliable plumber. If I have any more plumbing jobs he will be the first on my list. Many thanks Luke.
Thanks Luke for a fantastic job again. My decking roofing looks 100% better than before. No leaks. The care and attention to detail you show is a refreshing change from most tradesmen. I highly recommend Fulla Plumbing for all plumbing jobs. Thanks again.
Luke did a fantastic job on our kitchen & laundry renovation. Very experienced, knowledgable, and kept us informed of options every step of the way. Great guy. Thoroughly recommend!
We found Luke to be very innovative with installation of our rain water tanks and new toilets. The result was pipes that were hidden from view, very neat and tidy look. He takes a lot pride in his work. He was also very competitively priced. Would definitely have him back, and can highly recommend him.
Why Choose Fulla Plumbing?