Stormwater Pipe Repair Melbourne
A local and reliable Melbourne plumbing company providing cost effective storm water plumbing repairs for both domestic & commercial customers.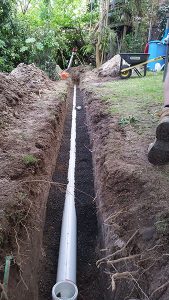 In urban areas, stormwater can give you headaches if not drained properly. The clogged pipes will not only result in getting your property flooded, but also become a source of unneeded smell and dirt when mixed with debris and tree roots. As such Fulla Plumbing Services provides a hassle-free stormwater pipe repair and replacement service in no time at a reasonable price.  Give us a call and our licensed plumbers will attend to your Stormwater Pipe Repair Melbourne needs.
Using our superior technology, we can detect the source of the blockage that's largely caused by tree roots that damage the pipe and penetrate through it in search of water; often slit, dirt and debris adds to it. Using our highly pressurized water jet we will clear the pipe of the blockage. We use state of the art technology to assure minimal problems during the course of work by our professional plumbers. During pipe replacement we take great care not to damage other concurrent pipes or services. When possible we refrain from unnecessary digging during reparation to guarantee the most cost effective services. Call us to make the water flow smoothly again in your pipes in no time.
What we
can do for you
Stormwater Retention Systems
Hot Water Replacement & Repair
Sewer Pump Stations
Grease Interceptors
Gutter & Downpipes
Rapid 24 hour Emergency Service

Stormwater Guidelines
Melbourne Water has many guidelines for stormwater pipe repairs, replacements, systems, inlets and outlets. Depending on the level of work involved these may apply to your project. Fulla plumbing is happy to provide you with expert and sound advice on stormwater pipe replacements & systems. More about Melbourne Water's guidelines can be found here.
What can cause a stormwater pipe to break?
There are a number of reasons why you might require a stormwater pipe repair or replacement.
A few of the common reasons in Melbourne are:
Tree roots have started to grow into the pipe. The roots will continue to grow down the pipe, and the root intrusion can block the entire stormwater system.
Thick diameter tree roots are shifting the pipes location causing it to crack allowing roots to enter or squashing the pipe.
Shifting foundations of a house, building or concrete slab can be more severe as dirt surrounding the foundations can enter the pipe and causes blockages.
The pipe was squashed under a driveway or crossover. A squashed pipe will cause the stormwater system to block up.
Heavy rain increases system pressure. An improperly designed stormwater system can cause drains and pits to flood putting excess pressure on the pipes causing them to break. This is increasingly common with older terracotta style pipes.
Why Choose Fulla Plumbing for Stormwater Repairs & Replacement